Criminal Record Search
A National CPIC (Canadian Police Information Centre) Database Search from a Canadian Police Agency.
The practice of obtaining Criminal Record Searches for employment screening is compliant with the Personal Information Protection and Electronic Documents Act (PIPEDA), all human rights legislation, and the Consumer Reporting Act. 
We Are Fully Compliant
The RCMP has industry standards regarding a candidate's consent for criminal record searches. All candidates must complete an RCMP mandated consent form and show government issued ID to the potential employer before a search can be completed.
Why Conduct Criminal Record Searches?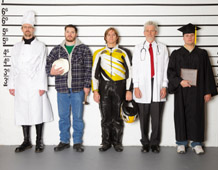 30 Criminal Convictions
Recently we conducted a criminal record search on a candidate. The candidate's criminal record search identified over 30 criminal convictions including theft, mischief, and escaping from prison – twice!
Contact Us
For more information on our services, please read more